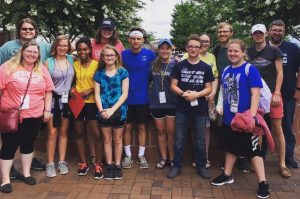 ---
Youth

 Weekly Activities Schedule
Wednesday Night (Resumes in January)
Fellowship Meal – 6pm
Backpack Ministry – 6:30pm-7pm 
"Disciples Path: The Beginning" – 7pm-7:45pm
Sunday
Sunday School – 9:45AM
Middle and High School classes
Sunday Night LIVE: Apologetics – 5:00pm-5:45pm
Youth
 Fun and Games – 5:45pm-6:00pm
(
Youth
 can download the "LIVE Daily" app to get weekly reminders of their Sunday Bible Study)
Wednesday Night Bible Studies
---
Sunday Bible Study
LIVE Apologetics
These 17 lessons will equip and encourage your students to clearly and effectively explain why they believe what they believe. And they'll be prepared to respond to some of the worldviews they encounter, including atheism, agnosticism, Buddhism, and Islam. Lessons focus on several major themes: overview of Apologetics, understanding who Jesus is, responding to specific worldviews and explaining your faith.  (November 18, 25. Resumes January 6)
---
Events Calendar
YOUTH BACKPACK NIGHTS
In order to fulfill our commitment of providing food for students at Northside Elementary, we will be meeting on the following dates at 6:45pm to pack two weeks worth of bags; November 28 and December 12. Parents are welcome to stay and help. It will take about an hour to complete.
CHILDREN'S CHRISTMAS PARTY / HANGING OF THE GREEN'S SERVICE – DECEMBER 2
The Annual MBC Children's Christmas party will be held on December 2nd from noon until 5:00 p.m. Lunch will be provided. The youth will be helping Andrea and leading the Hanging of the Green service.
YOUTH CHRISTMAS PARTY – DECEMBER 5
The Call Family will host our Christmas party on Wednesday, December 5 from 6-8pm.
CATHOLIC ACTION CENTER CHRISTMAS STORE  – DECEMBER 20
The 23rd Annual Faith & Community Christmas Store will take place at Southland Christian Church Richmond Road Campus, 2349 Richmond Road. Volunteers are needed as personal shoppers, inventory organizers, food distributors, & package carriers.  Our volunteer shift will be from 4:00pm-8:00pm. Children are welcome to volunteer with a parent. Please sign-up on their website at the following link https://goo.gl/HHt7b2 and email me if you will be attending so we can arrange transportation. We will need to leave Versailles by 3:30pm. See Zach for logistics and more info.
M-FUGE SUMMER CAMP – MOBILE, AL – JULY 1-6, 2019
Reserve your spot! Youth who want to attend Lifeway's M-Fuge camp in Mobile, AL will need to pay a $60 non-non-refundable deposit by February 1 and RSVP online (http://www.midwaybc.net/connect/youth/). The camp dates are July 1-6, 2019. The cost of camp is $350. However, through the Sweetheart fundraiser dinner and Youth and Children's Fundraiser Auction, the cost will be significantly reduced. Due to the long travel time, we will leave on Sunday, June 30th and return Sunday, July 7th. As of now, we have two male chaperones and will need at least two female chaperones. If you are interested, please see Zach (zach@midwaybc.net).
---
The Youth Facebook page is designed to inform the students and parents via social media of upcoming youth events and church news. It's a closed group and member requests will be sent to one of the administrators of page to accept your request.
---

M-Fuge – Summer Camp
Dates: July 1-6, 2019 (Departing June 30, returning July 7)
Location: University of Mobile, Alabama
Deposit: $60 due by February 1
Cost: $350
RSVP: https://goo.gl/forms/RjHF3H3iq8cixkOi2
---
YOUTH SPOTLIGHT – ERIN McQUEEN
Erin McQueen has almost completed her project for her Girl Scout Gold Award (comparable to Eagle Scout in the Boy Scout system) and her service project to develop a community meditation garden on the grounds here at Midway Baptist Church. She completed her first phase which was to collect 400 pounds of plastic tops to make a bench. Erin, June Baker, and Girl Scout troop leader, Tonya Lee, (and a few others) headed to Evansville, Indiana to turn in  the tops. They enjoyed the trip and were very excited to finally see the bench.
Erin wants to thank Evan who was at the church and was available to lift the very heavy 187 pound bench from the trailer.  The bench will be placed in the front of the church, in the area near the dogwood tree as a place for not only the church but those in the community to enjoy. Erin would like to thank Tonya and Mike Lee for driving to Indiana, Boy Scout Troop 1 for letting her use their trailer, and all who helped her collect the 400 pounds of bottle caps. Make sure you check out the garden coming soon and admire the wonderful bench.