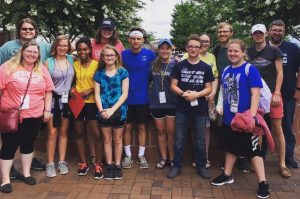 ---
Youth

 Weekly Activities Schedule
Wednesday Night
Fellowship Meal – 6pm
Backpack Ministry – 6:30pm-7pm 
"Disciples Path: The Beginning" – 7pm-7:45pm
Sunday
Sunday School – 9:45AM
Middle and High School classes
Sunday Night LIVE: Apologetics – 5:00pm-5:45pm
Youth
 Fun and Games – 5:45pm-6:15pm
(
Youth
 can download the "LIVE Daily" app to get weekly reminders of their Sunday Bible Study)
Wednesday Night Bible Studies
Disciples Path: The Beginning
The Beginning is five-session study that introduces the basic practices and elements of the faith, including the centrality of Christ, the crucial practice of prayer and Scripture reading, community, and what it means to be on mission for God. Exercises put weekly topics into practice, and meeting times work as well in one-on-one discipleship relationships as they do with typical small groups.
Disciples Path: The Truth
The Truth is a six-session study that will help students engage and understand the basic doctrines—the core beliefs and principles—of the Christian faith. The study will focus on what the Bible teaches on key issues such as God, humanity, the person and work of Jesus, the kingdom of God, the Holy Spirit, and the church.
---
Sunday Bible Study
LIVE Apologetics
These 17 lessons will equip and encourage your students to clearly and effectively explain why they believe what they believe. And they'll be prepared to respond to some of the worldviews they encounter, including atheism, agnosticism, Buddhism, and Islam. Lessons focus on several major themes: overview of Apologetics, understanding who Jesus is, responding to specific worldviews and explaining your faith.
---
Events Calendar
September 9 – 5pm –  
Fun and Food at the Rankin's.
Youth
 parents have agreed to open their homes to host 
Youth
 for dinner and games once a month on Sunday nights.
September 23 – Movie Night in the Quarry. Weather permitting, we will have a movie night at the quarry at Walter Bradley park in Midway. Popcorn and food will be provided. Rain location will be church Ministry Center. Movie is TBD.
September 21-22 – 7pm Friday-7pm Saturday – 

Youth

 Fall Retreat

 at Aker's Family Cabin at Beaver Lake in Lawrenceburg, KY. We will have food, games and a to-be-determined topic.
The Youth Facebook page is designed to inform the students and parents via social media of upcoming youth events and church news. It's a closed group and member requests will be sent to one of the administrators of page to accept your request.
---

M-Fuge – Summer Camp
Dates: June 24-29, 2019
Location: University of Mobile, Alabama
Deposit and Cost: TBA
---
YOUTH SPOTLIGHT – ERIN McQUEEN
Erin McQueen has almost completed her project for her Girl Scout Gold Award (comparable to Eagle Scout in the Boy Scout system) and her service project to develop a community meditation garden on the grounds here at Midway Baptist Church. She completed her first phase which was to collect 400 pounds of plastic tops to make a bench. Erin, June Baker, and Girl Scout troop leader, Tonya Lee, (and a few others) headed to Evansville, Indiana to turn in  the tops. They enjoyed the trip and were very excited to finally see the bench.
Erin wants to thank Evan who was at the church and was available to lift the very heavy 187 pound bench from the trailer.  The bench will be placed in the front of the church, in the area near the dogwood tree as a place for not only the church but those in the community to enjoy. Erin would like to thank Tonya and Mike Lee for driving to Indiana, Boy Scout Troop 1 for letting her use their trailer, and all who helped her collect the 400 pounds of bottle caps. Make sure you check out the garden coming soon and admire the wonderful bench.